May Ling Su is an author and indie porn producer. She started out as a twenty-something newlywed taking erotic photos and videos with her husband in the '90s. As her confidence and body of work grew, May Ling Su polarized audiences with her performance with the notorious Max Hardcore, followed by a gallery exhibit of menstrual blood art photography in New York City. Her portraits taken by celebrity photographer Timothy Greenfield-Sanders are in the book, "XXX: 30 Porn Star Portraits" and exhibited in fine galleries worldwide. She also appeared on "Thinking XXX," the HBO documentary on the making of the book. May Ling Su was nominated for the Feminist Porn Award.
A short documentary film about her work was aired on the award-winning Dutch show Metropolis TV. Anointed as a Pornsaint in Italy, artists painted her portraits and exhibited in Amsterdam, Zurich, and the United States. New York pop artist Sucklord created a Scratch 'n Sniff Pussy May Ling Su trading card in his Suckpax 3 collection. As a writer, she contributed Power Couple, a creative narrative piece for the book Agam, published by the Institute for Climate and Sustainable Cities. Agam won the National Book Award and Golden Book Award in the Philippines. May Ling Su also narrated and produced an audiobook, Armageddon's Princess by Anthony Pacheco. Her novel series, Lilith, is now available as paperbacks, kindle downloads, and audiobooks.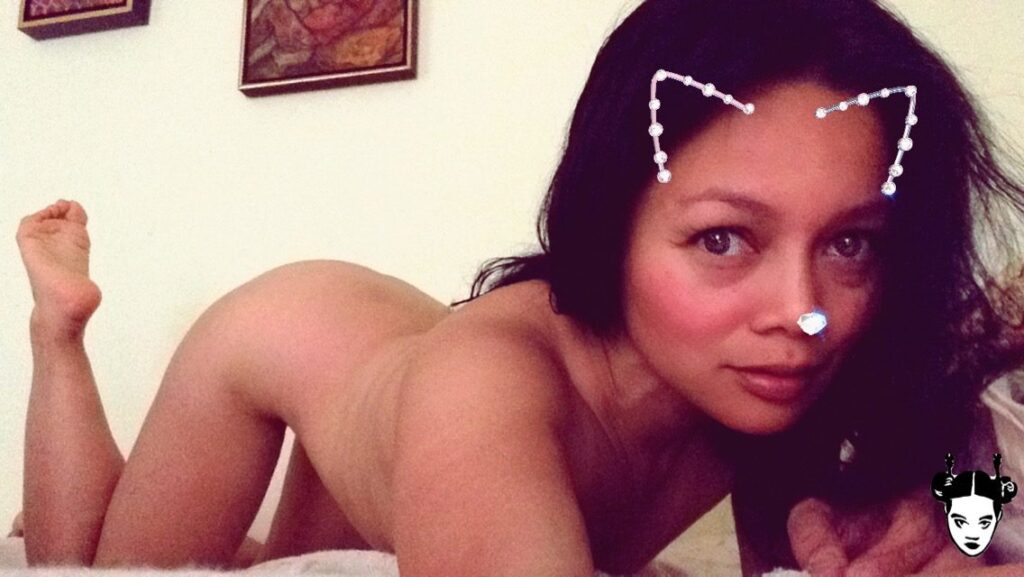 What are your stats? I'm barely over 5 feet tall and weigh 115 lbs. I have black hair and brown eyes. My measurements are 34B-27-36. Dress size 2 or 4 depending on the brand. I have size 6 feet. I don't smoke. I have no tattoos.
What is your ethnicity and nationality? I am Filipino-American.
What languages do you know? I am fluent in Tagalog and English. Music theory. HTML and CSS.
What is your religion? I am a pantheist.
How do you define your sexuality? I'm pansexual and polyamorous. 🦄🌈
What are your astrology signs? My sun and moon signs are Libra, so aside from that Aries rising that pokes its horns out every so often, I'm a Libra through and through. ♎️♈️♎️
What are your favorite…
Drinks? I'm a tea girl. Masala Chai or Lady Grey with raw honey and almond milk. Occasional coffee, but only Vietnamese Coffee. 🍺IPA.
Food? Indian, Thai, Vietnamese, Japanese, Mexican. Most fruits and berries. Sauerkraut. Seafood. I also have a sweet tooth. Just one.
Things? Old film cameras, kitchen droids, stationery supplies, enamel pins. Anything vintage really. I love things that have stories.
Some of the posts on this blog are works-in-progress, too intimate, or downright NSFW. Access to those is limited to only adults who are on my May Ling List. It's free to join. Here's how:
Submit your name and email.
You'll get an email from me requesting you to confirm your subscription by clicking on a link. That proves you actually have access to the email address you gave me. If it's not in your inbox within 5 minutes, check your spam/trash folder. Set your filter to let me into your inbox so you won't miss any more emails from me in the future.
Once you've confirmed your subscription, you'll get a welcome email with a link and a password to your first password-protected NSFW blog entry. Yay!
I don't give out passwords to back entries. Make sure you're on my May Ling List when the time comes for me to send out passwords by email or you'll miss the opportunity to receive that entry's password forever.
I promise not to spam you or share your email with anyone else.
So, what do you say? Introduce yourself to me instead of lurking around like a stalker. Sign up for my May Ling List and let's be friends.
Love, Lust, and Liberty,